COVID-19, Waco, and the Paradox of American Authoritarian Individualism
In the United States of America, the response to the COVID-19 novel coronavirus pandemic and its interrelated public health, social, and economic effects has been a disaster that has clarified not only institutional failures and governmental shortfalls but also national political and ideological divisions. Faced with a global health emergency and the attendant ripple consequences of economic stagnation due to mass business closures related to shelter in place orders and social distancing guidelines, the U.S. has predictably fractured along partisan faultlines while federal, state, and local governments have simultaneously varied their responses wildly from place to place and jurisdiction to jurisdiction. Governors from Washington to Ohio to New York to Florida have managed outbreaks and resultant social and economic struggles with different levels of swiftness, competency, rhetoric, and ideological rigidness.
Critics of President Donald Trump's administration, meanwhile, have found no lack of fodder in the federal response. Trump and his minions in the White House, Cabinet, and Congress dismissed and downplayed early warnings of the pandemic from as early as the last stages of 2019, and missed one critical window after another for preparatory action. Once COVID-19's deadly spread in the States (deaths have risen to around 50,000 by the time of publishing, with a devastatingly large percentage in the country's largest urban area, New York City) was impossible to deny, Trump and his team settled into a cycle of reply based in incompetence, wishful thinking, cruel diminishment of death tools, political gamesmanship, and naked opportunism. As Trump shifts blame for the crisis to foreigners and to domestic political opponents at lower levels of government, berates critical reporters in daily briefings and muses aloud if injecting people with disinfectant will kill the virus, and echo-chambers dubious (and possible more deadly) miracle pharma cures in chorus with a phalanx of Fox News propagandists, the media and state governments report a haphazard project of federal seizures of vital protective supplies and ventilators, apparently for distribution to friendly Republican-run state governments and/or price-gouging sales by hastily-established corporations linked to right-leaning plutocrats and GOP donors.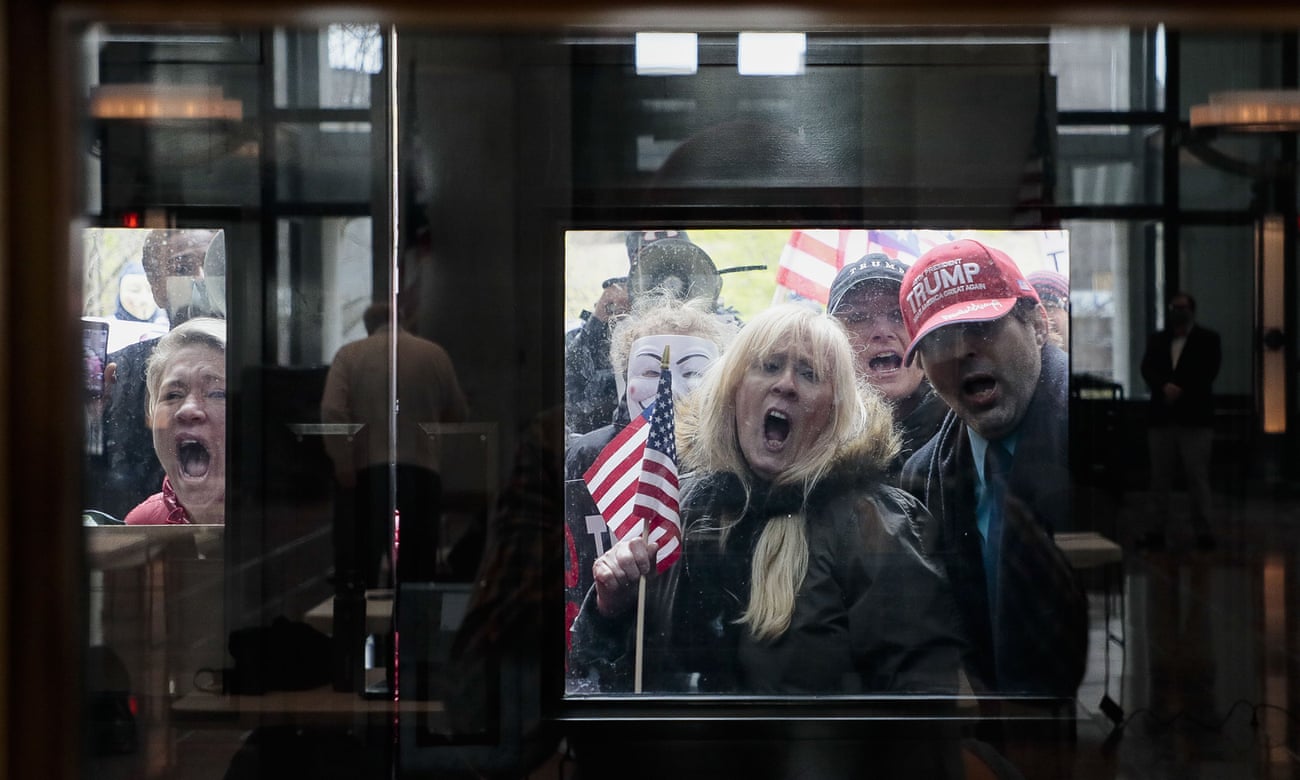 Most dangerously, Trump and the American Right has increasingly parroted the desirous discourse of that wealthy donor class to restore their profit margins by re-opening the economy as soon as possible, instead of observing social-distance protocols in a serious capacity at least until the graphed curve of increasing cases and deaths flattens and preferably until a vaccine is developed. This discourse has frequently ventured to its logical conclusion and culminated in open calls for essential-service labourers and the vulnerable elderly (the latter very much among Trump's base of support) to sacrifice their lives for the greater economic good of their free market betters. The morbid cruelty and self-serving avarice of such arguments were amplified last week by a coordinated set of clearly astroturfed protests, funded and organized by nationwide Republican groups. Crowds of a couple hundred people, closely resembling the attendees of Trump's now-shuttered political rallies, descended on state legislatures across the country to decry the unacceptable violation of their freedom represented by widespread quarantine efforts that stretched well beyond government restrictions and into reasonable market-based responses. This Trump-loyal petite bourgeoisie, mostly made up of small business owners whose generally underpaid employees would shoulder the burden of viral exposure risk just as frontline health care workers and grocery clerks currently are, demanded that the nation re-open, in at least one laughable case so they can buy lawn care supplies again.
The irresponsible and often lethal incoherence of the Trump-captured American conservative movement has been on full display during the pandemic and especially at these protests. The pandemic response has represented an intractable dilemma of balancing the need for collective action with the still-dominant American gospel of self-sufficient (or more accurately self-serving) individualism. The gulf between these opposing social and political tendencies has become partisanized and hardened to the point of driving a stagnant stalemate between left and right, Democrat and Republican, with the most vulnerable (minorities, immigrant groups, women, the elderly) suffering the cost, even before the descent of the pandemic.
In a predictable but very dangerous fashion, the collective public-health COVID-19 response of quarantines and closures and social distancing has become politically identified with liberalism, which in recent Democratic Party discourse and electoral platforms emphasizes government action and welfare-state support to address endemic socioeconomic issues, in a limited manner in socialism-skeptic America, of course, and always with the partnership of private corporations whose profit-hunger drives most of those issues in the first place. Conservatism's anti-government perspective (at least when that government is not run by conservatives) and corporate-catalyzed hostility to social assistance has not only blunted the federal response to the coronavirus pandemic, its increasingly open and shameless xenophobic parochialism has sparked unproductive initiatives (Trump's only solution to any problem, of course, being to close U.S. borders) and anti-Asian discrimination. But mistrust of and hostility towards the perceived quarantine regime has also coalesced on the right (although nominally leftist splinter groups like anti-vaccination activists have gravitated there as well), leading to objections to continued social and economic closures as unacceptable tyranny by the oppressive state (although never by the actual head of state, of course, as long as he is Republican, in which case state oppression is seen to benefit them, at least until it doesn't).
Trumpist conservatives have revealed in their ideological response to COVID-19 and its effects a roiling maelstrom of internal contradictions that ought to collapse their worldview into inchoate invalidation. But like all authoritarian belief-systems, and especially the most notorious ones such as fascism and Stalinism, Trumpism's power lies not in resolving these contradictions in a Hegelian dialectic as Karl Marx proposed as the essential component of class relations, but in leaving them unresolved and unrestrained within and without the bounds of ideology (this is one border Trump will never seek to close). There ought to be a debilitating paradox in this strain of American authoritarian individualism, which denounces employment insurance supported by higher taxes on the wealthy as being oppressive tyranny on par with the Nazis and the Holocaust while unquestioningly supporting police brutality against minorities and chanting along with a President's sing-song calls to imprison his political opponents, which threatens gun-toting violence in support of personal liberties but cannot conceive of expressions of that liberty beyond buying stuff and saying racist things.
Add in the conservative movement's total melding with evangelical Christianity, and the twice-divorced, impossibly crude, serial adulterer and sexual harrasser Donald Trump's seemingly-incongruous embrace as a holy champion by those same evangelicals, and the contradictions merely multiply. Patriarchal religious hierarchy, and the strived-for theocratic ideal of church authority over not only believers but civil society as a whole, is at its core a poor fit for the consumer-centric individualism ingrained in the American psyche by decades of corporate power and influence, a core belief that animates American conservatism today more than any other. Evangelical Christians' theologically dubious dedication to prosperity gospel rhetoric serves to justify the worship of mammon that characterizes the Republican Party and is especially central to Donald Trump's public identity.
Yet control by religious authority, as by political or corporate authority, ought not to coexist with or tolerate the tendency towards radical individualism, expressed in differing intensities by conservative-adjacent groups like America-First nationalists, libertarians, militias, doomsday preppers, and anti-government survivalists. How can one political ideology demand of its adherents self-erasure of identity in the form of total subordination to connected political, corporate, and religious power structures and resultant linked conceptions of communal belonging while also trumpeting complete socioeconomic self-reliance and inviolable freedom from centralized control? A liberal skeptic might pronounce, not without justification, that these versions of individualism, religion and authoritarianism are at the very least deeply misshapen and deluded and at most purposeful manipulative propaganda deployed cynically by power elites to maintain their privilege. But these anchors of belief are held with fervent firmness by their acolytes, creating a tapestry of overlapping, chaotic paradoxes that make the degraded conservatism of Trumpist ideology more difficult to pinpoint and therefore to discredit and contain.
This tension between these modes of authoritarian collectivity and of rugged, self-preservational individualism is explored with unexpected nuance, complexity, and potency in a television miniseries about a very different but appositely resonant incident in relatively recent American history. The Paramount Network's six-part narrative dramatization of the shocking and enduringly controversial 1993 standoff and siege between the Branch Davidians religious commune and U.S. federal agents (first enforcement agents of the Bureau of Alcohol, Tobacco, Firearms and Explosives, a.k.a. the ATF, then the FBI) at the Mount Carmel Center outside of Waco, Texas aired in early 2018, coinciding with the 25th anniversary of the tragic and troubling event. Waco was praised for its tension, attention to accuracy and detail (the production built, shot in and around, and then burned down a replica of the Mount Carmel Center), and strong performances, especially from Taylor Kitsch as self-styled messianic Branch Davidian leader David Koresh and Michael Shannon as senior FBI negotiator Gary Noesner. It was also criticized for an excessively sympathetic portrayal of Koresh, who took numerous group members as wives and mothers of his children (including a 14-year-old girl) and psychologically manipulated and abused his perceived cult of followers to ensure their loyalty, even before the stubborn intractability of his apocalyptic religious vision forbade compromise with the authorities over a 51-day siege and eventually contributed to the tragic inferno that engulfed Mount Carmel during a FBI tear gas raid on April 19th that claimed the lives of 76 Branch Davidians, including 25 children and Koresh himself.
In my view, it's a testament to the nimbleness of the writing by brothers John Erick and Drew Dowdle (along with Salvatore Stabile and Sarah Nicole Jones) and the depth of Kitsch's performance that Waco is able to clearly establish both Koresh's persuasive charisma and his disturbing authority and control over his flock. The central problem faced by Waco from a storytelling perspective is that the historical events offer up no clear good or bad side (as real, non-propagandist history frankly tends to do), no obviously sympathetic protagonist for the audience to latch onto and identify with in their struggle. Does one make heroes of the trigger-happy, militarized zero-tolerance feds, or the polygamist, statutory-raping religious fundamentalist cult leader raving about the end of the world, with a fanatically loyal entourage and a stockpile of illegal firearms?
The Dowdles and their co-writers tackle this dilemma by basing their narrative on two published sources and by casting those sources as key sympathetic characters on each side. Noesner's book is one source, and Shannon's expert FBI negotiator is depicted as the voice of reason in the law enforcement response, emphasizing communication, goodwill, and even limited and entirely pragmatic expressions of understanding and empathy in achieving resolution to the standoff. Noesner's talk-first approach is contrasted with the privileging of fear, psychological torture, intimidation, and finally open force preferred by tactical commander Mitch Decker (Shea Whigham), a strategy that leads to the tragic conflagration and mass death that was neither side's intention (any death-cult mass suicide fantasies attributed to Koresh and his followers are repeatedly disavowed). Waco also draws from the first-hand account of Mount Carmel survivor David Thibodeau (Rory Culkin) for perspective from inside the compound, and therefore characterizes Thibodeau as the kindest, most decent, most doubtful, and most well-meaning Branch Davidian for audiences to latch onto.
Waco characterizes the tragic conclusion to the standoff, depicted with harrowing, operatic intensity in the final episode (the Dowdles are known for their horror films, and they summon a sense of incipient terror in the raid and inferno sequence), as being the result of mistakes on both sides. It presents numerous Branch Davidians wondering why their government is out to get them and won't just leave them alone, but does not shy away from either the moral horror or the legal jeopardy of Koresh's polygamy and child marriage (although Texas law at the time allowed someone under the age of 18 to marry with parental consent, anyone over the age of 18 having sex with a person under the age of 17 is guilty of statutory rape, regardless of consent) and includes a lingering shot with ominous scoring of the group's considerable arsenal of modified automatic weapons hidden in the building's vault. It also depicts the feds as constantly and non-productively working at cross purposes, with the ATF commander ignoring the warnings of an undercover agent (John Leguizamo) that the Branch Davidians know they're coming and rolling in guns blazing (this initial raid resulted in 6 dead Branch Davidians and 4 dead ATF agents, losses that made neither side eager to back down), and then the FBI tactical division undermining advances made by Noesner in negotiations. This latter cutting off of outreach efforts at the knees is crystallized in an illustrative incident: with the community's mothers unable to produce milk for their babies due to stress and malnutrition, Noesner laboriously negotiates to provide the besieged with milk in exchange for the release of some of the children inside, but Decker undoes any progress in building trust and cooperation by cutting electric power to Mount Carmel, which causes the milk to spoil without refrigeration.
Waco repeatedly presents Noesner as a kinder, better alternative to the militarized policing represented by Decker (who is put through an agonizing first-hand realization of the terrible costs of his tactical focus before the end), while counting on the dispiriting knowledge that despite the Mount Carmel catastrophe, America's authoritarian police state tendencies still won out in subsequent years. One could expand this dichotomy to the wider scope of American imperialism, with soft-power diplomacy contending with hard-power military intervention in the superpower's foreign policy and military intervention usually winning out, to the general detriment of the countries being intervened in and to America's global reputation as well. But in both of these cases and especially the one presented in Waco, the field of dichotomous perspectives is highly limited and arguably even false; this is a tug of war of tactics alone played out inside the boundaries of the same overarching strategy and goals of the law enforcement superstructure, a debate between agents of state power about the most efficacious methods to compel citizens to obedience to the dictates of that power. No matter which "side" triumphs, authoritarianism wins in the end.
Waco is most complex and difficult to parse when dealing with David Koresh and the Branch Davidians. On the one hand, the miniseries presents them as real people with human concerns and foibles and not as brainwashed cultists (although their weaknesses make them easy marks for Koresh's pitch, in their own ways), and when disaster strikes at the series climax, their horrible deaths and desperate attempts to save their loved ones and themselves are given the full clear-eyed emotional representation of high tragedy. But the Branch Davidians are also paradoxical personifications of American authoritarian individualism. There is a strong far-right, anti-government, guns-right-extremist element to the group (which is what attracts the ATF's attention to them in the first place, with related illegal weapons purchases), a perspective driven by the apocalyptic religious millenarianist separatism favoured by Koresh, with his repeated eagerness to read events at the compound through the prism of the Book of Revelations. The government, as with all of secular society, is out to get them and prevent them from living their lives on the basis of their beliefs, in their view, and it's a view that is a pre-requisite to armed conflict and even mass sacrifice, however often the Brand Davidians deny that they intend to turn Mount Carmel into another Jonestown.
But alongside this familiar strain of radical individual freedom is the collectivity and erasure of self that characterizes marginal religious fundamentalist movements, which operates not as a contrast to conceptions of radical individualism but as fanatical corollary of them. The Branch Davidians dress up their lifestyles at Mount Carmel in bright garments of love, family, and belonging to present themselves to the world in a positive light; Jacob Vasquez, the undercover ATF agent played by Leguizamo, is not a little seduced by good vibes of the community, and is worked on with subtle persuasion by Koresh. Koresh leads the group in Bible study sessions and plays secular rock music with smouldering rock-star magnetism (the first-episode scene in which he meets and recruits Thibodeau, who is a underemployed drummer, at a nearby bar features him and his band playing The Knack's "My Sharona", an ironic/unironic choice considering it's about being in love with an underaged girl). But like the hidden arsenal of guns glimpsed when Koresh enters a walk-in vault freezer to get ice cream, darker truths lurk behind this friendly facade.
Koresh enforces strict celibacy on the community's other men while insisting that he himself has a right to sexual congress with any of the community's women that he chooses. The FBI comments pointedly that when self-styled prophets like Koresh claim to be receiving the revelations of God, one of those revelations tends to be a command to sleep with as many young women as possible; one could apply this observation not only to other fundamentalist cults but to the early history of now-mainstream religions (for what is a religion but a widely-accepted cult, as a religious scholar points out on a local radio talk show?) such as Mormonism and Islam. More than anything, Koresh's practices of polygamy and child marriage are what turns normal people against him and his followers, and he isn't unaware of the legal problems these practices place him and his people in either (he asks Thibodeau to marry his underaged wife Michelle, played by Julia Garner, in order to mitigate the legal jeopardy).
Why does he do it, then, besides the obvious corporeal desires and/or genuine belief? Waco presents Koresh as an expert psychological manipulator and quietly ruthless authoritarian figure (he had to be to rise to his position of power in the Branch Davidians, whose pre-siege history is absolutely wild and entirely cutthroat), and two mirroring scenes demonstrate how keeping multiple wives who bear his children functions in compelling loyalty and obedience and preserving his power over his followers. During the siege, Koresh is approached first by his chief lieutenant Steve Schneider (Paul Sparks) and then by David Thibodeau with requests to allow women and children that they care about to leave the compound, which in both cases would have saved their lives.
Schneider, a former theology professor at the University of Hawaii originally from Wisconsin (hence Sparks' well-observed Midwestern accent), was convinced to join the Branch Davidians upon hearing Koresh's interpretation of the Seven Seals of the Book of Revelations, and became the group's top recruiter. He and his wife Judy (Andrea Riseborough) are unable to conceive, but she has a child with Koresh. Judy was injured in the ATF raid, and Schneider asks Koresh to allow her to leave with the baby, although he has every intention of staying. Koresh refuses the request, invoking his privilege to decide as father of the child. This is reflected in Thibodeau's later request in a far deteriorated situation to leave and take Michelle and her daughter Serenity, with whom he has bonded, with him; Koresh will let Thibodeau go, demurring about the influence of his concerned mother (Camryn Manheim) outstripping his own, but again refuses to relinquish his hold over his wife and child. Taking multiple wives and reproducing with them is not merely a base expression of degraded horniness or an overly literal reading of now-outdated Biblical practices; it is a way for Koresh to extend the tendrils of power through his spiritual family by transforming it into his actual genetic family.
The Branch Davidians that emerge from the Waco miniseries are a specific and paradoxical American archetype: authoritarian individualists, emphasizing their freedom of choice and liberty from state coercion (represented by the contrasting factions within the FBI and the ATF) while simultaneously subsuming their identities and their agency to the unquestioned total authority of a sainted leader whose own manipulative and amoral conduct is frequently anything but saintly. It's an authoritarian power relation, redolent of cults of personality around leaders such as fascist Hitler or Mussolini, communist Stalin or Mao, the Kims of North Korean juche, and, yes, the Fox News fantasy of Donald Trump's greatness. Like Koresh but unlike the (often pitiless) secularism of the other listed examples, Trump has found the patriarchal appeals to ultimate authority fundamental to Evangelical Christianity useful in buttressing and expanding his power, although they are unlike each other in nearly every other way (Koresh memorized the entire Bible, for example, while Trump probably couldn't autonomously quote from it if he tried). And like all of these earlier figures, Trump has found the paradoxes inherent to an authoritarian mindset to not be hindrances but to be highly beneficial and even transcendent of authoritarianism's ideological contraints. In a time demanding productive collective action, Trumpist authoritarian individualism is a collective inaction of a counterproductive and even lethal type.