Archive for July, 2020
Paddington (2014; Directed by Paul King)
Paddington 2 (2017; Directed by Paul King)
Far more than actual cinematic continuations the Fantastic Beasts films (of which there surely cannot be three more of yet to come, especially given the toxic division embraced recently by their rich and powerful screenwriter), Paul King's Paddington movies are the spiritual and metaphorical successor to the massively successful Harry Potter screen franchise. They are, of course, British-based productions from Potter's Hollywood studio Warner Brothers and produced by Potter's primary overseer David Heyman, and they feature several actors who also appeared in the Potter movies: Julie Walters, Jim Broadbent, Brendan Gleeson, and the voices of Imelda Staunton and Micheal Gambon. But like Harry Potter (and the James Bond movies and Christopher Nolan's Dunkirk and even Matthew Vaughn's wildly amoral Kingsman movies to a much lesser extent), Paddington and its sequel Paddington 2 are among the carriers of the weight of post-millenial British (but especially English) national pride and international image-making both domestically in the UK and around the world. The United Kingdom is an empire no more; the sun has well and truly set on its global power, and increasingly sets on the disparate people and the harshly unequal society within its own borders, which its most important political leader of the past half-century firmly insisted did not exist, an assessment whose current Tory leaders seem bluffly determined to prove correct. Still, a prominent global position has mostly been maintained by the UK through high-finance shell games, disproportionate sport spending and consumption (see the English Premier League and the 2012 London Olympics), and particularly through internationally-disseminated popular culture: British television, popular music, the stage theatre of the West End, and mainstream cinema.
The greatest and most uncertain threat to that prominence since the end of the Second World War is Brexit (although its supporters will no doubt tell you that it will Make Britain Great Again), and it arrived like a bolt from above (or from below) in between the release of the two Paddington films. How sad and incongruous it is that the UK narrowly voted to sever itself from Europe and (in its right-leaning media and Conservative political ascendancy at least) embrace the besieged Little Britain fortress mentality of the Euroskeptic fringes at the same time as some of its very talented film artists were crafting a pair of transcendent family films whose themes, ideas, and emotions embraced a very different and more inclusive and warm image of the UK as a welcoming shore for strangers and a society and culture held together by fundamental goodness, fairness, politeness, and openness to vital changes of heart. It might strike one as wrong and deluded to preface the Paddington movies in such political terms, but make no mistake, these are political movies just as they are absolutely masterfully crafted entertainment storytelling for all conceivable audiences. The first Paddington movie is about the fundamental decency and good-heartedness of a foreign transplant winning over native-born
anxiety around the risk of integrating difference and literally triumphing over the exploitative legacy of colonialism. The second Paddington movie is a parable of community cohesion and empathetic carceral state reform. These movies are about an adorable and clumsy talking bear in a hat and coat who loves marmalade, but they're sociopolitical fables as well. If there's a third movie, maybe Paddington will abolish the police. Who's to say?
What is Paddington? Well, he's a talking bear (voiced by Ben Whishaw) from the jungles of "Darkest Peru" (that's how it's said every time, as if to emphasize a certain fantasy nature to the exoticized place). His Uncle Pastuzo and Aunt Lucy (Gambon and Staunton, respectively) are his adoptive guardians (he tells another character that they raised him after his parents died, and Paddington 2 opens with them saving him from a river as a cub), who speak English and have a dedicated fondness (if not exactly a deep knowledge) of British culture after a meeting with a friendly and respectful Brit explorer (Tim Downie) sometime in the colonial past. They pass this fondness and knowledge and sense of civilized politeness on to the cub, as well as a ritualistic adoration for marmalade (I can't say that I share their taste for it, unfortunately) and their lifelong ambition to go to London on the invitation of their explorer friend (the movie corrects for the colonialist implications of all this, and we'll get to that). When an earthquake shatters their homely tranquility in the jungle, Paddington is bundled onto a ship by the elderly Lucy bound for London, acquiring his English moniker when he arrives at the major city railway station of the same name.
Expecting to be taken in by a kindly family like a World War II orphan, Paddington has no luck attracting the attention and sympathy of the busy rail commuters until he meets the Brown family, gently bickering upon their return from a domestic holiday (the vital essentials of the family dynamic and personalities are imparted in the scant 30 seconds of screen time between train disembarkment and meeting with Paddington, a marvel of screenwriting and acting economy). Despite the initial distaste and dismissal of family patriarch and officiously prudent risk analyst Henry (Hugh Bonneville) and the embarrassment of teen daughter Judy (Madeleine Harris), muse-following book illustrator and warm matriarch Mary (Sally Hawkins) feels sorry for him and, supported by inventive tinkerer and pre-teen risk-taking son Jonathan (Samuel Joslin), offers to bring him home for the night and help him find a more permanent home the next day. Henry is eager to be rid of him, especially after a destructive flooding of the washroom and a later small kitchen fire threatens to push up their insurance premiums. But Paddington's guileless and polite friendliness and fish-out-of-water wonder with their simple suburban lives gradually wins over even the more hardened Browns, as well as kindly locals like antique-shop owner Mr. Gruber (Broadbent), an immigrant to London like the bear. At the same time, however, Paddington must contend with an ornery and prejudiced neighbour, Mr. Curry (Peter Capaldi, quite funny in the first film more so than in the second, where he has less of a plot role), and Curry's loose ally and unrequited romantic interest Millicent (a gleefully villainous Nicole Kidman), taxidermist director of London's Natural History Museum, who murderously seeks to add Paddington to the museum's stuffed animal specimen collection.
Paddington slowly convinces the Browns to embrace their better qualities through his sheer boundless nicety, and even leads Mr. Curry to a limited redemption, when he balks at Millicent's violent intentions and anonymously tips off the Browns after she snatches the bear (Henry recognizes his "disguised" voice on the phone right away). Pre-redemption, both Henry and Mr. Curry speak of Paddington in thinly-veiled prejudiced anti-immigrant language: Henry initially dismisses him as a likely urchin who will look to sell them something at the railway station, and Curry frames him in terms of an unwanted desirable likely to ruin the neighbourhood (Curry is a self-appointed neighbourhood watch agent in Paddington 2, even declaiming to the street denizens about a raised Bear Threat Level with a printed colour-coded Terror Watch-style chart); he is reinforced in this xenophobic-coded thinking by Millicent, who warns darkly of slippery-slope tableaux of comedic bear-related social decay like hair clogging storm drains and "all-night picnics". This connects with the colonialist implications of the black-and-white newsreel prologue, when it is later revealed that (spoiler!) Millicent is the daughter of the friendly explorer who encounter Lucy and Pastuzo, who was blackballed from the Geographers' Guild for refusing to bring back a not-so-alive specimen of the rare bear species for museum display and the glory of the Guild and of himself. Seeing her father's kindliness and lack of ego as unforgivable weakness that carried with it harsh consequences, Millicent seeks to imbue the cathedral of knowledge with a neo-imperialist glory that will reflect on her as well, instead of joining the chain of goodness that so impressed itself on Paddington and is the foundation of the realm of polite warmth that grows up around him.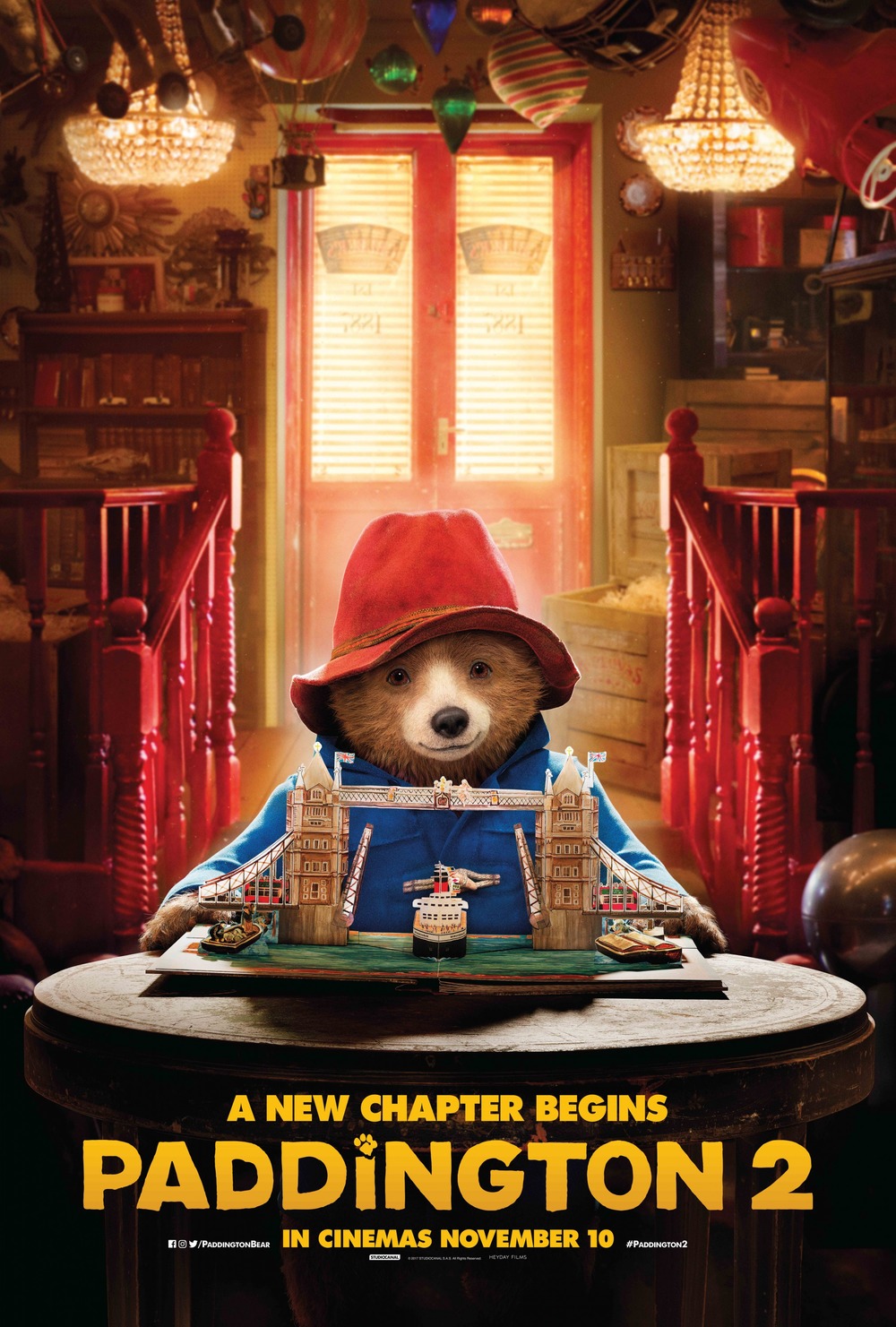 This realm of polite warmth is more apparent and expanded upon in Paddington 2, the far funnier but equally well-crafted sequel. Paddington is now firmly a vital heart of the neighbourhood, despite Curry's fussy objections, and his decency elevates and brings out the best in not only the Browns but in most of their neighbours as well. In one visually illustrative moment, after Paddington becomes a window cleaner, he scrubs the grime off the windows of a sour, solitary military veteran (Ben Miller), quite literally letting the sun into his life and changing his outlook almost instantly. But this all changes with alarming suddenness when Paddington observes a bewhiskered thief snatch a rare and expensive pop-up book of London landmarks from Mr. Gruber's antiques boutique. Due to Paddington's pursuit of the robber along the city's canals and his own publically-observed interest in obtaining the book (legitimately, by paying for it with his work earnings) as a gift to his London-pining Aunt Lucy in her Home for Retired Bears in Lima, however, the bear is arrested for the theft and sent to prison.
While the Browns attempt to prove his innocence and the guilt of suspected culprit Phoenix Buchanan (a terrific Hugh Grant), a disguise-loving egotistical washed-up actor who sought the book as part of an elaborate and potentially lucrative treasure hunt whose proceeds he plans to use to rejuvenate his flagging career, Paddington works his positive transformative powers on the (gently-)hardened inmates of the prison, particularly the intimidating cook Knuckles McGinty (Gleeson, doing his hard man with a heart of gold act to light-touched perfection). By the time the Browns have their first visit with him, Paddington has befriended the entire inmate pool (the scene where he introduces them all by name at the visitation window might be the funniest of the many very funny moments between both films, especially when one of the prisoners is a Tory-ish baronet politician who hopes he can rely on the Browns' vote and "couldn't possibly comment" on mugshots of potential criminal gang members behind the theft) after softening McGinty's resistance with his delicious marmalade sandwiches, involving other incarcerated men in pastry cooking (another British cultural import), and convincing the warden to read bedtime stories over the loudspeaker, to make the jail seem more like a home. It's Paddington's positive influence taken to a purposeful and thus more impactful extreme: even prisoners, viewed as society's dregs and barely-human criminals even in a nation like Britain that treats them more fairly than some others do, are worthy of kindness and good treatment, and respond with their (mostly) best selves when so treated (this is even imparted visually by their striped prisoner scrubs being dyed a soft pink hue by a red sock that sneaks into the washing machines as Paddington is on laundry duty).
It's not often that children's movies featuring a talking CGI bear speak simply but eloquently to the positive social influence of immigrants and advance potent arguments for progressive prison reform, but the Paddingtons are very special children's movies, and not just on the level of surprising political themes. They are based on the children's storybooks by Michael Bond, first published in 1958 and widely beloved and frequently adapted in Britain since then (Bond cameoed in the first film but died the year the second one came out, which is dedicated to him). Their director is Paul King, who also wrote the first film himself (from a story he co-penned with Hamish McColl) and co-wrote the second with Simon Farnaby, who appears in both films as a dim security guard who is very attracted to men dressed as women (another British cultural import). King hadn't done much notable film work before totally knocking the Paddingtons out of the park, but he did direct the inventive Brit comedy series The Mighty Boosh (left-of-centre Brit comedic talent like Matt Lucas, Noah Taylor, Kavyan Novak and Richard Ayoade have small but funny roles in the films). Paddington and Paddington 2 are fantastic family entertainment in the vein of Pixar's opuses, delighting children as well as including smart humour and sophisticated (but not pop-culture dated) references for older audiences, especially to film history from the silent comedy of Charlie Chaplin and Buster Keaton to Hitchcock thrillers to the Mission: Impossible franchise.
Patrick H. Willems details many of these references as well as numerous other great strengths of these films in a video essay about them: they are tightly and cleverly-written narratives full of efficient but effective visual storytelling, witty sights gags (for example, when the Browns first come across Paddington, he is seated in front of the station lost & found, with only the word "lost" lit up behind him; when Mary offers to let him stay with them, "found" flickers on as well), and satisfying pay-offs for even seemingly throwaway gags with later story callbacks and resolutions (King shares this screenwriting skill with another vet of small-screen British comedy who transitioned to feature film, Edgar Wright), they are often hugely funny, genuinely moving, and they are beautifully composed and shot (Erik Wilson was the cinematographer for both). The musical score hits the key emotional and thematic cues (Nick Urata is the composer for the first film, Dario Marianelli for the second) but it's in the use of pop music inserts that the Paddingtons really shine (The Mighty Boosh was largely a musical comedy piece, so King is versed in mixing it into a comedic narrative). The needle drops in the first film can be pretty on the nose: James Brown's "I Got You (I Feel Good)" when Paddington commandeers a small dog to attempt to navigate the Tube like a confident local, Steppenwolf's Easy Rider anthem "Born to Be Wild" over a flashback to Henry and Mary as motorcycle-riding hippies (Paddington 2 uses Boney M's "Daddy Cool" to establish the freak-flagged young Henry as a deft hand at Brit carnival game coconuts), and a hilarious snippet of Lionel Richie's meme fave "Hello" to underscore Curry's lovestruck astonishment at first glimpsing Millicent. The movies' most consistent musical element is King's deployment of a middle-aged UK calypso band called Tobago and D'Lime as a recurring semi-diegetic Greek chorus, showing up on street corners and even in prison to sing jaunty tunes tonally related to Paddington's adventures. And of course Grant's spotlight-loving Phoenix Buchanan closes the credits of Paddington 2 with a big flamboyant production number with the pink-clad prison inmates as his chorus line; the Paddington films are generous enough in their souls to give even one of their self-centered bad guys a spectacular stage musical redemption.
These are movies with huge hearts but also with huge brains, and the combination is pretty special. The cast is special, too: Hawkins was nominated for a Best Actress Oscar for The Shape of Water the same year Paddington 2 came out, and brings both a flighty suburban-bohemian quality and an emotional centre to Mary; Bonneville specializes in stodgy Brit authority figures with unglimpsed reserves of bravery and sentiment, and Henry (whose long-haired hippie past in amusingly flashed back to in both films, as noted) is a fine example of this; Walters is a flinty proletarian Scots delight, especially when she distracts a museum guard during the climax of the first film by drinking him under the table; the kids are solid, Broadbent is at his buoyantly avuncular best, and as mentioned the villains played by Kidman and Grant are hammy scenery-chewing joys (Kidman picks up a stuffed rodent as if it's a phone when Curry rings her at her office at one point, while Grant slips from one accent to another while conversing about his treasure hunt masterplan with his mannequin-mounted stage costumes).
It's Ben Whishaw who is the anchoring soul at the core of Paddington, though. Adopting a winsome, fussy, vulnerable tone, Whishaw uses vocal ability alone to give the computer-animated bear (who is given some furry realism but mostly held by the VFX artists as a cartoon figure) an irresistible heart without slipping into preciousness or even hinting at anything but a deep-felt sincerity. Whishaw has been recognized as one of the UK's finest young actors for a stretch of years now and has headlined numerous British TV projects (his Richard II outshone the kings of Tom Hiddleston and Benedict Cumberbatch to be the best lead performance of the Shakespearean Henriad/War of the Roses series The Hollow Crown), but has not gained the American film roles to achieve international fame like some of his contemporaries (minus his role as the new Q in the Bond films). His voice acting in the Paddington films may not be a major breakthrough, but they are a testament to his powers as well as to his ability to chameleonically embody a certain idealized Englishness.
Likewise embodying a certain idealized Englishness, the Paddington movies are great, even if real-world events in the country of their setting has made them into even more fanciful fantasies than they essentially are, as imagination-laced children's tales. King transitions with poetic wonder into Paddington's imaginative liquid memory of his Darkest Peru jungle origins in both films: in the first, the bear steps through the watery membrane of a film projection screen into a lush green tropical woodland, and in the second, a tear he sheds in his prison cell when he thinks the Browns have forgotten him sprouts green shoots from the floorboard cracks that likewise grow into the jungle flora of his subconscious mind. In a similar way, if you'll indulge the metaphor, the Paddington films are a wondrous, imaginative memory-dream of a Greater Britain that the nation seeks to project to the world but that also seems to be a form of faded nostalgia disconnect from social and political reality. Audiences can look upon a fairer and kinder land through the refracted liquid membrane of Paul King's sparkling family movies, and perhaps even imagine, with their best hopeful hearts, that the United Kingdom will emerge from the contentious and dangerous crucible of Brexit as a better and more empathetic national community. The real UK appears unlikely to abide by Paddington's favoured mantra from Aunt Lucy that "If you're kind and polite, the world will be right," if only because so many on or near the levers of power and wealth benefit from the opposite. But the Paddington movies can but be the best model for fair and friendly social and moral behaviour as well as for skilled, inclusive filmcraft that they can be, while hoping that as many others as possible follow their example.
The Hunt for Red October (1990; Directed by John McTiernan)
It's an ironic historical oddity that Hollywood only began to adapt the neoconservative military/espionage novels of best-selling author Tom Clancy after the Cold War was over and the Soviet Union was on the brink of collapse. The first of the imperialist adventures of Clancy's go-to hero – the intrepid CIA analyst, former Marine, and all-around instrument of covert American hegemony Jack Ryan – came out in print in 1984, at the mid-point of the Reagan Era of whose international political mentality and approach Clancy's work was the purest popular-literary embodiment. Paramount Pictures only got around to making a film adaptation of the submarine-focused novel a few years later, releasing The Hunt for Red October in March 1990, after the fall of the Berlin Wall, the democratic revolutions of the Eastern Bloc, and the effective end of the U.S.S.R. with the Communist Party's removal from power.
It's somehow fitting that The Hunt for Red October arrived onscreen as an already-formed expression of the nostalgic fantasy view of the just-ended Cold War, a view that Clancy's literary output is predicated on and that has pervaded American popular culture and even American global and domestic policy thinking down to today. In many ways, the Cold War mentality never really ended in the American psyche, because the Cold War was not where it started. This is the deep persistence of what Richard Hofstadter called "the paranoid style in American politics", pivoting after 1991 from the "Evil Empire" of the Soviets to alternately hyperbolized and wholly imagined existential antagonists to American power foreign and domestic: tinpot dictators like Iraq's Saddam Hussein, Islamist terrorists after 9/11, and conspiratorial elite cabals deeply suspected on fringes of both the Right and the Left, before most recently circling back to the contemporary heirs of the U.S.'s literal Red Scare foils, Vladimir Putin's election-disrupting Russia (whose association with President Donald Trump's manifold corruption is a favoured Cold War callback attack vector of centrist neoliberals) and the ever-rising economic powerhouse of authoritarian Communist China (whose human rights violations and failures in pandemic containment Trump's loyalist enablers on the Right have been eager to emphasize in order to deflect criticism of his own).
The Hunt for Red October's theatrical release timing is fitting because if Clancy's earliest books were marinated in the historical context of the belligerent paranoia of Reaganite neoconservatism (his second, Red Storm Rising, was co-written with Larry Bond and fictionalizes a third world war between NATO and the Warsaw Pact), his very first novel (and first cinematic adaptation, which is extremely faithful to the book's events) actually imagines a scenario of late Cold War rapprochement between the implacably opposed superpowers, or at least a couple of their national security representatives. This makes it part of a micro sub-genre of onscreen political thrillers made in a very narrow window of time that narrativized the Cold War's imminent end with themes of peace agreements, burying hatchets, seeking reconciliation, and looking ahead to an uncertain but hopeful future. These are the kind of themes that liberal Hollywood could get behind as the Reagan Era transitioned into the First Bush Interregnum before the new false dawn of Clintonian neoliberalism. The sixth Star Trek movie, 1991's The Undiscovered Country, is this film's most notable sibling in this micro-genre, surpassing its thematic and symbolic eloquence as expressed via genre filmmaking more fully when viewed through the lens of the history of that science-fiction franchise, though not necessarily in more general terms.
The Hunt for Red October introduces a career-prime Jack Ryan (Alec Baldwin) as a voice of moderation, rational action, and cooperation amidst a shoot-first intelligence and military apparatus. Ironic again, perhaps, that this version of Ryan, conceived during the waning days of the Cold War, is an advocate of soft-power man-to-man diplomacy with the Soviet adversary, when later versions of the character – played in subsequent films by Harrison Ford, Ben Affleck, and Chris Pine – shifted more in the direction of buttressing American power in a dangerous and unpredictable world, culminating in the current super-imperialist Amazon Prime television series, a glorified CIA recruitment video starring the oft-risible John Krasinski. Baldwin's Ryan leaves behind his family (Star Trek: The Next Generation's Gates McFadden has a single scene as his wife, and there's some humanizing business with his kid's teddy bear) at the behest of CIA Deputy Director Admiral James Greer (James Earl Jones) to delve into some worrisome surveillance photos and maritime reports of a new Soviet super-submarine, the titular Red October, which has put to sea with what is suspected to be a state-of-the-art new jet-like "caterpillar" propulsion system that would empower it to run silent through the water and thus evade sonar detection, allowing it to conceivably sail right into U.S. waters with its nuclear payload before anyone in the Navy knew it was there.
This, of course, profoundly worries the military brass, intelligence bosses, and National Security Advisor (Richard Jordan), who seek Ryan's expertise as a CIA analyst and naval historian. But by the time he briefs them, the situation has only grown in complexity and urgency. Red October's captain, highly-regarded Lithuanian submariner Marko Ramius (Sean Connery), has blown off a training rendezvous with another Soviet sub (its Captain Tupolev pursues him doggedly and thus becomes the closest thing the film has to a villain; this was one of the first attention-grabbing English-language roles for Swedish actor Stellan Skarsgård), surreptitiously murdered his political officer (named Putin in a historical irony that now seems almost unbelievable in its rich serendipity), and used his caterpillar drive to slip off of sonar and head across to the Atlantic Ocean towards North America, just as a pre-posted letter from Ramius lands on the desk of a Party leader informing his superiors of his intention to defect to the U.S. with his crew and high-tech boat.
As it heads west Statesward, the Red October believes to have slipped by an American sub, the USS Dallas, captained by Bart Mancuso (Scott Glenn), but the Dallas' brilliantly observant classical-music-loving sonar operator Jones (Courtney B. Vance) picks up a hint of their sonar signature and manages to track and/or anticipate their trajectory. Presenting all this information and acting on a firm hunch that Ramius, whose file he knows back to front and whose wife recently passed away, intends to defect (the Soviets, ever deceitful in American eyes, inform the U.S. that Ramius is a renegade madman and ask them to help sink his sub), Ryan convinces the authorities at one turn after another to allow him to risk an attempt to intercept Red October and contact Ramius to ascertain his intentions, rather than invite a potential nuclear incident by firing on him. Their rendezvous on Red October will require them to find a mutual understanding while holding the trigger-happy Americans at bay, defeating the implacable Tupolev (a former protégé of Ramius), thwarting a mysterious onboard saboteur, and deceiving the Red October's crew as well as the entire Soviet fleet if they're to have any chance at a successful defection on the road to a more lasting peace.
The Hunt for Red October was directed by John McTiernan, following on the heels of his helming of Predator and Die Hard, a high-quality three-film run nearly unparalleled in Hollywood blockbuster filmmaking (he would make up for it with the legendary flop Last Action Hero a few years later, a movie perhaps unfairly maligned for its attempt to subvert action movie tropes). With that kind of resume, I don't have to say that his direction of the underwater tension is deft and surehanded, if perhaps not quite up to the gold standard of the claustrophobic submarine thriller, Wolfgang Petersen's Das Boot. But McTiernan is a thinking-man's action genre artist, and employs subtle but definite techniques to impress the themes of Larry Ferguson and Donald E. Stewart's screenplay into the perception of his audience. One of these techniques is shown through the use of language in dialogue, with the transitions between spoken English, unsubtitled spoken Russian, subtitled spoken Russian, and finally into English again chosen very deliberately and intelligently to impart core ideas about Cold War worst-case-scenarios (Russian and English share the same word for "Armageddon", aptly) and the common-humanity olive branches of mutual understanding (Patrick Willems details these techniques and what they communicate to the audience in a good video essay on the movie). The cinematography also works to this goal, bookending the film with complimentary scenes of Ramius' sub leaving and entering secure inlets and generally serving McTiernan's needs for clear, effective visual communication with occasional stylish flourishes (the DP was Jan de Bont, later a notable action and thriller director in his own right).
As is often the case when movies deal with social and political issues, The Hunt for Red October grounds the macro in the micro, rendering the slow crumbling of large-scale generational ideological conflict and global-power rivalry in illustrative gestures of relatable human connection. Ryan's family life is imparted in broad strokes early on and paid off with a closing callback moment. Ryan speaks Russian to build a bridge with Ramius; the Lithuanian submariner's father was a fisherman, and he and Ryan discuss angling in the coves of New England in the nocturnal denouement. Ramius chats with his right-hand man Borodin (Sam Neill, also in one of his early breakthrough American film roles) about their future lives in the States, and Borodin speaks with aspirational humility about a simple life in Montana, which grants pathos to his eventual fate.
We're used to American characters, ever the protagonists in movies of this sort, being given human dimension, but vitally the crew of the Red October is afforded the same privilege of identifiable traits and earned empathy; even supporting figures like Tim Curry's fastidious ship's doctor (left out of the officers' defection conspiracy and target of a ruse to remove the ordinary crew for the very reason of his rule-bound nature) and Ronald Guttman's chief engineer (who nails a particularly Russian sense of sarcastically grim dedication to duty redolent of the character actors in Chernobyl) are given space to paint quick-stroke personalities among the larger plot intrigue. Films that render larger-scale politics in small-scale emotional intimacy can oversimplify and stereotype in the process, but the most remarkable thing about The Hunt for Red October is that it preserves the political sweep and the personal dimension. Especially given its genre, subject matter, and primary source material, all often subject to whittled-down archetypes and black-and-white moral dichotomies, this makes it a notable effort, regardless of the resonance-granting incidentality of its release timing in historical context.
This Is the End (2013; Directed by Seth Rogen & Evan Goldberg)
This Is the End answers a question you've probably never thought it worthwhile to ask (and may not think it so even after watching the movie): If the apocalypse happened, a full-on fire-and-brimstone Book of Revelations Judgement Day event with demonic beasts and the Rapture and cataclysmic earthquakes, what would happen to all of the comedic actor bros from Judd Apatow's movies and TV shows? You know, Seth Rogen, James Franco, and Jay Baruchel, favoured Apatow collaborators since his television days of Freaks & Geeks and Undeclared, and maybe Jonah Hill and Micheal Cera from Superbad, and also Danny McBride and Craig Robinson from Pineapple Express. Since it goes without saying that these guys hadn't lived life blamelessly and righteously enough to be deserving of ascension straight to heaven (I mean, you've seen Your Highness, right? There's no coming back from that), would they survive? If a pack of them were holed up together with dwindling supplies in, let's say, James Franco's pretentious contemporary-art-strewn mansion as Los Angeles burned outside, could they cooperate and coexist in order to stay alive, or would resentful bickering and masculine disagreements tear their de facto band apart amidst the unusual pressures of Armageddon?
This Is the End takes this bottle-episode scenario of homosocial bunker mentality to appropriate extremes. All of the aforementioned comedic actors play exagerrated versions of themselves, and come in for rough treatment in Rogen and Evan Goldberg's script (the duo also direct and produce) as well as in the heavy improvisations (apparently only Franco, who presents as a pompous self-interested prick second only to the generally abrasive McBride, did not object to how he came across, suggesting a capacity for self-deprecation henceforth largely unglimpsed in the man). The premise is that they're all attending a lavish Hollywood housewarming party at Franco's new pad (not filmed in L.A. but in tax-break-offering New Orleans), along with cameoing celebs like Rihanna, Emma Watson, Aziz Ansari, Mindy Kaling, Kevin Hart, Jason Segel, Paul Rudd, and more. Baruchel is visiting and staying with his old friend and Undeclared and Knocked Up co-star Rogen and had hoped to spend more time with him rather than being reluctantly dragged to a big Hollywood affair. The tension in their fading friendship is at the heart of the movie, and becomes all the more strained when Baruchel watches people being raptured out of a convenience store and he and Rogen barely escape crashing cars to get back to Franco's place, where a deep sinkhole with a magma bottom opens up on the front lawn and starts swallowing B-level talent like a Netflix development contract (Got 'Em).
Micheal Cera goes first of many, which is honestly surprisingly disappointing seeing as wild degenerate coke fiend Micheal Cera is a great improvement over halting awkward Micheal Cera (he was grateful to Rogen and Goldberg for helping him to try to escape his typecasting with this role). This movie is hardly gentle, and carries a serious body count; as in The Interview, Rogen and Goldberg's comedy sensibility is not unafraid to get blood on its hands. Quickly enough, the cast is whittled down to the volatile sextet of Rogen, Baruchel, Franco, Hill, McBride, and Robinson, with a brief re-appearance by a bat-swinging Watson, who they quickly alienate and drive off (with a clutch of their precious supplies, to boot) with an overheard conversation about making her feel at ease among so many men that swiftly degenerates into misapprehended (and actually carefully contextualized so as not to offend) rape concern commentary (Mila Kunis was originally supposed to fill this role, but then one of the film's best jokes would have been lost, McBride's crestfallen post-mortem summary: "Hermione just stole all of our shit"). This conflict-heavy fratty atmosphere (Franco and McBride clash over many things, although none at quite the absurd length of an interminable argument about ejaculation) persists as their situation becomes more desperate and the demonic beings unleashing the apocalypse threaten them from outside the house and eventually from within.
This Is the End is based on Jay & Seth Vs. The Apocalypse, a short film Baruchel and Rogen made in 2007 to stir up industry interest in the final feature film's core concept of a pair of bickering buddies navigating both the existential threats of Armageddon and the prideful microaggressions of male companionship. Like most of the comedy movies from this stable of creatives, This Is the End is a predominant (and only fleetingly ironic or self-examining) sausagefest lorded over by a smothering dude-ish sensibility, with all the women's roles either sexualized (Kaling, Rihanna, and Watson are all basically reduced to sex jokes, although the latter two are allowed to clap back at least) or very much not (a mean woman at the convenience store gets a violent comeuppance). There's also some percolating, troubling homophobic anxiety at play in the comedy, with Hill being sexually violated by a possessive demon and his 21 Jump Street co-star Channing Tatum showing up in a cameo as a submissive sex slave to Mad Max-style post-apocalyptic raiders.
The humour runs towards the usual dude-comedy fodder of food, sex, bodily functions, pop culture references, recreational drug use, and prolific cussing (though not prolific enough to crack this most definitive of masterlists) as befits a largely improvised movie from a bunch of guys well-versed in such (not necessarily) sophomoric material throughout their careers. Your mileage may vary with this stuff, but Rogen and Goldberg are capable enough filmmakers to keep happenings fresh and unpredictable, particularly in late-film action and effects sequences and horror homages to The Omen and The Exorcist (the demon-possessed Hill is quite funny in the latter, with his unimpressed and casual asides during the believer Baruchel's attempt to get the power of Christ to compel him: "Guess what? It's not that compelling.") There's surprisingly nice cinematographical work as well from DP Brandon Trost, including the very memorable image introducing McBride below.
Given that we're living through an era of viral pandemics, mass unrest, rising authoritarianism, and imminent socioeconomic and climatological collapse in which the apocalyptic is not merely in vogue but presenting as a terrifyingly urgent possibility, This Is the End could be approached today as either a trifling trivialization or a cathartic invocation of those fears. As befits its comedic genre, this is not a disaster movie circling and underlining the supposed realism of its depicted end of the world as we know it, grounding this apocalypse very much in Christian eschatology and its fantastical supernatural elements (see the final face-off with a hundreds-of-feet-tall Satan, who you'd better believe is on the receiving end of a penis joke). This choice becomes funnier when you consider how much of the core onscreen and offscreen creative talent is Jewish (and thus presumably do not subscribe to Christian millenarianism), but it does not transfer to grounding the events in the moral and ethical questions of these beliefs; one conversation comes close to addresses these conundrums, and there is a generalized suggestion that being a good person and sacrificing for the benefit of others is the path to paradise, but it's not really interested in such matters and clumsily mangles them in the service of humour. The Good Place, this ain't.
This Is the End is a shock-humour stoner comedy about the end of world with a frat-boy-meta take on self-regarding celebrity culture (Rogen cited Charlie Kaufman's films as an influence, which is quite the thing) in which a major plot point is Jonah Hill being raped by a demon and which ends with a Backstreet Boys cameo in heaven (a semi-ironic "Christmas in Heaven" for the millenial generation). It's more ambitious than your usual bro-heavy knee-slapper, but it still hardly reinvents the wheel and doesn't have anything much to offer in the way of social commentary, as the apocalyptic genre frequently does. It was an understandable impulse in 2013 to want to laugh at the end of the world, but in 2020, the joke is not nearly as funny.