Archive for the 'Film' Category
Paddington (2014; Directed by Paul King)
Paddington 2 (2017; Directed by Paul King)
Far more than actual cinematic continuations the Fantastic Beasts films (of which there surely cannot be three more of yet to come, especially given the toxic division embraced recently by their rich and powerful screenwriter), Paul King's Paddington movies are the spiritual and metaphorical successor to the massively successful Harry Potter screen franchise. They are, of course, British-based productions from Potter's Hollywood studio Warner Brothers and produced by Potter's primary overseer David Heyman, and they feature several actors who also appeared in the Potter movies: Julie Walters, Jim Broadbent, Brendan Gleeson, and the voices of Imelda Staunton and Micheal Gambon. But like Harry Potter (and the James Bond movies and Christopher Nolan's Dunkirk and even Matthew Vaughn's wildly amoral Kingsman movies to a much lesser extent), Paddington and its sequel Paddington 2 are among the carriers of the weight of post-millenial British (but especially English) national pride and international image-making both domestically in the UK and around the world. The United Kingdom is an empire no more; the sun has well and truly set on its global power, and increasingly sets on the disparate people and the harshly unequal society within its own borders, which its most important political leader of the past half-century firmly insisted did not exist, an assessment whose current Tory leaders seem bluffly determined to prove correct. Still, a prominent global position has mostly been maintained by the UK through high-finance shell games, disproportionate sport spending and consumption (see the English Premier League and the 2012 London Olympics), and particularly through internationally-disseminated popular culture: British television, popular music, the stage theatre of the West End, and mainstream cinema.
The greatest and most uncertain threat to that prominence since the end of the Second World War is Brexit (although its supporters will no doubt tell you that it will Make Britain Great Again), and it arrived like a bolt from above (or from below) in between the release of the two Paddington films. How sad and incongruous it is that the UK narrowly voted to sever itself from Europe and (in its right-leaning media and Conservative political ascendancy at least) embrace the besieged Little Britain fortress mentality of the Euroskeptic fringes at the same time as some of its very talented film artists were crafting a pair of transcendent family films whose themes, ideas, and emotions embraced a very different and more inclusive and warm image of the UK as a welcoming shore for strangers and a society and culture held together by fundamental goodness, fairness, politeness, and openness to vital changes of heart. It might strike one as wrong and deluded to preface the Paddington movies in such political terms, but make no mistake, these are political movies just as they are absolutely masterfully crafted entertainment storytelling for all conceivable audiences. The first Paddington movie is about the fundamental decency and good-heartedness of a foreign transplant winning over native-born
anxiety around the risk of integrating difference and literally triumphing over the exploitative legacy of colonialism. The second Paddington movie is a parable of community cohesion and empathetic carceral state reform. These movies are about an adorable and clumsy talking bear in a hat and coat who loves marmalade, but they're sociopolitical fables as well. If there's a third movie, maybe Paddington will abolish the police. Who's to say?
What is Paddington? Well, he's a talking bear (voiced by Ben Whishaw) from the jungles of "Darkest Peru" (that's how it's said every time, as if to emphasize a certain fantasy nature to the exoticized place). His Uncle Pastuzo and Aunt Lucy (Gambon and Staunton, respectively) are his adoptive guardians (he tells another character that they raised him after his parents died, and Paddington 2 opens with them saving him from a river as a cub), who speak English and have a dedicated fondness (if not exactly a deep knowledge) of British culture after a meeting with a friendly and respectful Brit explorer (Tim Downie) sometime in the colonial past. They pass this fondness and knowledge and sense of civilized politeness on to the cub, as well as a ritualistic adoration for marmalade (I can't say that I share their taste for it, unfortunately) and their lifelong ambition to go to London on the invitation of their explorer friend (the movie corrects for the colonialist implications of all this, and we'll get to that). When an earthquake shatters their homely tranquility in the jungle, Paddington is bundled onto a ship by the elderly Lucy bound for London, acquiring his English moniker when he arrives at the major city railway station of the same name.
Expecting to be taken in by a kindly family like a World War II orphan, Paddington has no luck attracting the attention and sympathy of the busy rail commuters until he meets the Brown family, gently bickering upon their return from a domestic holiday (the vital essentials of the family dynamic and personalities are imparted in the scant 30 seconds of screen time between train disembarkment and meeting with Paddington, a marvel of screenwriting and acting economy). Despite the initial distaste and dismissal of family patriarch and officiously prudent risk analyst Henry (Hugh Bonneville) and the embarrassment of teen daughter Judy (Madeleine Harris), muse-following book illustrator and warm matriarch Mary (Sally Hawkins) feels sorry for him and, supported by inventive tinkerer and pre-teen risk-taking son Jonathan (Samuel Joslin), offers to bring him home for the night and help him find a more permanent home the next day. Henry is eager to be rid of him, especially after a destructive flooding of the washroom and a later small kitchen fire threatens to push up their insurance premiums. But Paddington's guileless and polite friendliness and fish-out-of-water wonder with their simple suburban lives gradually wins over even the more hardened Browns, as well as kindly locals like antique-shop owner Mr. Gruber (Broadbent), an immigrant to London like the bear. At the same time, however, Paddington must contend with an ornery and prejudiced neighbour, Mr. Curry (Peter Capaldi, quite funny in the first film more so than in the second, where he has less of a plot role), and Curry's loose ally and unrequited romantic interest Millicent (a gleefully villainous Nicole Kidman), taxidermist director of London's Natural History Museum, who murderously seeks to add Paddington to the museum's stuffed animal specimen collection.
Paddington slowly convinces the Browns to embrace their better qualities through his sheer boundless nicety, and even leads Mr. Curry to a limited redemption, when he balks at Millicent's violent intentions and anonymously tips off the Browns after she snatches the bear (Henry recognizes his "disguised" voice on the phone right away). Pre-redemption, both Henry and Mr. Curry speak of Paddington in thinly-veiled prejudiced anti-immigrant language: Henry initially dismisses him as a likely urchin who will look to sell them something at the railway station, and Curry frames him in terms of an unwanted desirable likely to ruin the neighbourhood (Curry is a self-appointed neighbourhood watch agent in Paddington 2, even declaiming to the street denizens about a raised Bear Threat Level with a printed colour-coded Terror Watch-style chart); he is reinforced in this xenophobic-coded thinking by Millicent, who warns darkly of slippery-slope tableaux of comedic bear-related social decay like hair clogging storm drains and "all-night picnics". This connects with the colonialist implications of the black-and-white newsreel prologue, when it is later revealed that (spoiler!) Millicent is the daughter of the friendly explorer who encounter Lucy and Pastuzo, who was blackballed from the Geographers' Guild for refusing to bring back a not-so-alive specimen of the rare bear species for museum display and the glory of the Guild and of himself. Seeing her father's kindliness and lack of ego as unforgivable weakness that carried with it harsh consequences, Millicent seeks to imbue the cathedral of knowledge with a neo-imperialist glory that will reflect on her as well, instead of joining the chain of goodness that so impressed itself on Paddington and is the foundation of the realm of polite warmth that grows up around him.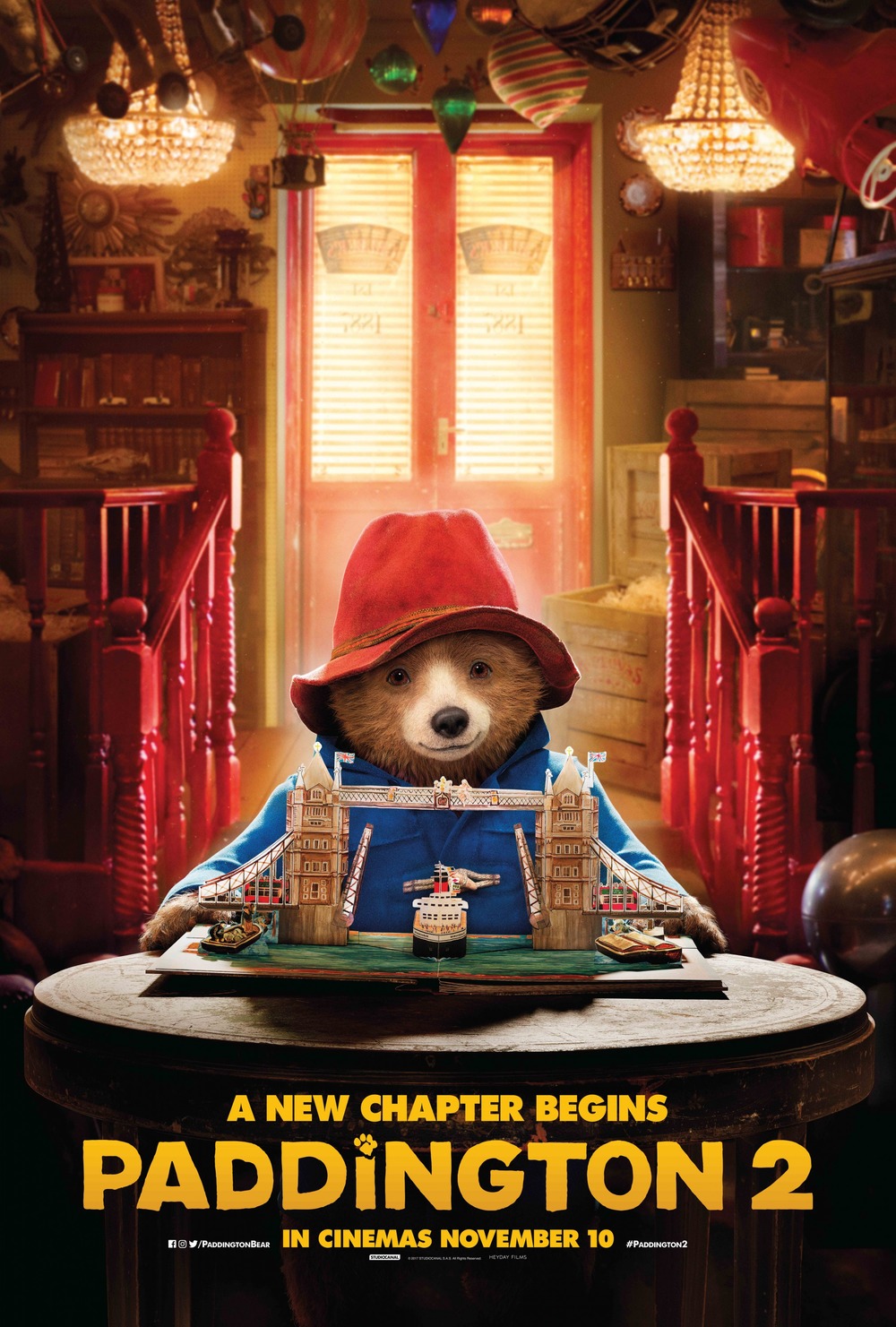 This realm of polite warmth is more apparent and expanded upon in Paddington 2, the far funnier but equally well-crafted sequel. Paddington is now firmly a vital heart of the neighbourhood, despite Curry's fussy objections, and his decency elevates and brings out the best in not only the Browns but in most of their neighbours as well. In one visually illustrative moment, after Paddington becomes a window cleaner, he scrubs the grime off the windows of a sour, solitary military veteran (Ben Miller), quite literally letting the sun into his life and changing his outlook almost instantly. But this all changes with alarming suddenness when Paddington observes a bewhiskered thief snatch a rare and expensive pop-up book of London landmarks from Mr. Gruber's antiques boutique. Due to Paddington's pursuit of the robber along the city's canals and his own publically-observed interest in obtaining the book (legitimately, by paying for it with his work earnings) as a gift to his London-pining Aunt Lucy in her Home for Retired Bears in Lima, however, the bear is arrested for the theft and sent to prison.
While the Browns attempt to prove his innocence and the guilt of suspected culprit Phoenix Buchanan (a terrific Hugh Grant), a disguise-loving egotistical washed-up actor who sought the book as part of an elaborate and potentially lucrative treasure hunt whose proceeds he plans to use to rejuvenate his flagging career, Paddington works his positive transformative powers on the (gently-)hardened inmates of the prison, particularly the intimidating cook Knuckles McGinty (Gleeson, doing his hard man with a heart of gold act to light-touched perfection). By the time the Browns have their first visit with him, Paddington has befriended the entire inmate pool (the scene where he introduces them all by name at the visitation window might be the funniest of the many very funny moments between both films, especially when one of the prisoners is a Tory-ish baronet politician who hopes he can rely on the Browns' vote and "couldn't possibly comment" on mugshots of potential criminal gang members behind the theft) after softening McGinty's resistance with his delicious marmalade sandwiches, involving other incarcerated men in pastry cooking (another British cultural import), and convincing the warden to read bedtime stories over the loudspeaker, to make the jail seem more like a home. It's Paddington's positive influence taken to a purposeful and thus more impactful extreme: even prisoners, viewed as society's dregs and barely-human criminals even in a nation like Britain that treats them more fairly than some others do, are worthy of kindness and good treatment, and respond with their (mostly) best selves when so treated (this is even imparted visually by their striped prisoner scrubs being dyed a soft pink hue by a red sock that sneaks into the washing machines as Paddington is on laundry duty).
It's not often that children's movies featuring a talking CGI bear speak simply but eloquently to the positive social influence of immigrants and advance potent arguments for progressive prison reform, but the Paddingtons are very special children's movies, and not just on the level of surprising political themes. They are based on the children's storybooks by Michael Bond, first published in 1958 and widely beloved and frequently adapted in Britain since then (Bond cameoed in the first film but died the year the second one came out, which is dedicated to him). Their director is Paul King, who also wrote the first film himself (from a story he co-penned with Hamish McColl) and co-wrote the second with Simon Farnaby, who appears in both films as a dim security guard who is very attracted to men dressed as women (another British cultural import). King hadn't done much notable film work before totally knocking the Paddingtons out of the park, but he did direct the inventive Brit comedy series The Mighty Boosh (left-of-centre Brit comedic talent like Matt Lucas, Noah Taylor, Kavyan Novak and Richard Ayoade have small but funny roles in the films). Paddington and Paddington 2 are fantastic family entertainment in the vein of Pixar's opuses, delighting children as well as including smart humour and sophisticated (but not pop-culture dated) references for older audiences, especially to film history from the silent comedy of Charlie Chaplin and Buster Keaton to Hitchcock thrillers to the Mission: Impossible franchise.
Patrick H. Willems details many of these references as well as numerous other great strengths of these films in a video essay about them: they are tightly and cleverly-written narratives full of efficient but effective visual storytelling, witty sights gags (for example, when the Browns first come across Paddington, he is seated in front of the station lost & found, with only the word "lost" lit up behind him; when Mary offers to let him stay with them, "found" flickers on as well), and satisfying pay-offs for even seemingly throwaway gags with later story callbacks and resolutions (King shares this screenwriting skill with another vet of small-screen British comedy who transitioned to feature film, Edgar Wright), they are often hugely funny, genuinely moving, and they are beautifully composed and shot (Erik Wilson was the cinematographer for both). The musical score hits the key emotional and thematic cues (Nick Urata is the composer for the first film, Dario Marianelli for the second) but it's in the use of pop music inserts that the Paddingtons really shine (The Mighty Boosh was largely a musical comedy piece, so King is versed in mixing it into a comedic narrative). The needle drops in the first film can be pretty on the nose: James Brown's "I Got You (I Feel Good)" when Paddington commandeers a small dog to attempt to navigate the Tube like a confident local, Steppenwolf's Easy Rider anthem "Born to Be Wild" over a flashback to Henry and Mary as motorcycle-riding hippies (Paddington 2 uses Boney M's "Daddy Cool" to establish the freak-flagged young Henry as a deft hand at Brit carnival game coconuts), and a hilarious snippet of Lionel Richie's meme fave "Hello" to underscore Curry's lovestruck astonishment at first glimpsing Millicent. The movies' most consistent musical element is King's deployment of a middle-aged UK calypso band called Tobago and D'Lime as a recurring semi-diegetic Greek chorus, showing up on street corners and even in prison to sing jaunty tunes tonally related to Paddington's adventures. And of course Grant's spotlight-loving Phoenix Buchanan closes the credits of Paddington 2 with a big flamboyant production number with the pink-clad prison inmates as his chorus line; the Paddington films are generous enough in their souls to give even one of their self-centered bad guys a spectacular stage musical redemption.
These are movies with huge hearts but also with huge brains, and the combination is pretty special. The cast is special, too: Hawkins was nominated for a Best Actress Oscar for The Shape of Water the same year Paddington 2 came out, and brings both a flighty suburban-bohemian quality and an emotional centre to Mary; Bonneville specializes in stodgy Brit authority figures with unglimpsed reserves of bravery and sentiment, and Henry (whose long-haired hippie past in amusingly flashed back to in both films, as noted) is a fine example of this; Walters is a flinty proletarian Scots delight, especially when she distracts a museum guard during the climax of the first film by drinking him under the table; the kids are solid, Broadbent is at his buoyantly avuncular best, and as mentioned the villains played by Kidman and Grant are hammy scenery-chewing joys (Kidman picks up a stuffed rodent as if it's a phone when Curry rings her at her office at one point, while Grant slips from one accent to another while conversing about his treasure hunt masterplan with his mannequin-mounted stage costumes).
It's Ben Whishaw who is the anchoring soul at the core of Paddington, though. Adopting a winsome, fussy, vulnerable tone, Whishaw uses vocal ability alone to give the computer-animated bear (who is given some furry realism but mostly held by the VFX artists as a cartoon figure) an irresistible heart without slipping into preciousness or even hinting at anything but a deep-felt sincerity. Whishaw has been recognized as one of the UK's finest young actors for a stretch of years now and has headlined numerous British TV projects (his Richard II outshone the kings of Tom Hiddleston and Benedict Cumberbatch to be the best lead performance of the Shakespearean Henriad/War of the Roses series The Hollow Crown), but has not gained the American film roles to achieve international fame like some of his contemporaries (minus his role as the new Q in the Bond films). His voice acting in the Paddington films may not be a major breakthrough, but they are a testament to his powers as well as to his ability to chameleonically embody a certain idealized Englishness.
Likewise embodying a certain idealized Englishness, the Paddington movies are great, even if real-world events in the country of their setting has made them into even more fanciful fantasies than they essentially are, as imagination-laced children's tales. King transitions with poetic wonder into Paddington's imaginative liquid memory of his Darkest Peru jungle origins in both films: in the first, the bear steps through the watery membrane of a film projection screen into a lush green tropical woodland, and in the second, a tear he sheds in his prison cell when he thinks the Browns have forgotten him sprouts green shoots from the floorboard cracks that likewise grow into the jungle flora of his subconscious mind. In a similar way, if you'll indulge the metaphor, the Paddington films are a wondrous, imaginative memory-dream of a Greater Britain that the nation seeks to project to the world but that also seems to be a form of faded nostalgia disconnect from social and political reality. Audiences can look upon a fairer and kinder land through the refracted liquid membrane of Paul King's sparkling family movies, and perhaps even imagine, with their best hopeful hearts, that the United Kingdom will emerge from the contentious and dangerous crucible of Brexit as a better and more empathetic national community. The real UK appears unlikely to abide by Paddington's favoured mantra from Aunt Lucy that "If you're kind and polite, the world will be right," if only because so many on or near the levers of power and wealth benefit from the opposite. But the Paddington movies can but be the best model for fair and friendly social and moral behaviour as well as for skilled, inclusive filmcraft that they can be, while hoping that as many others as possible follow their example.